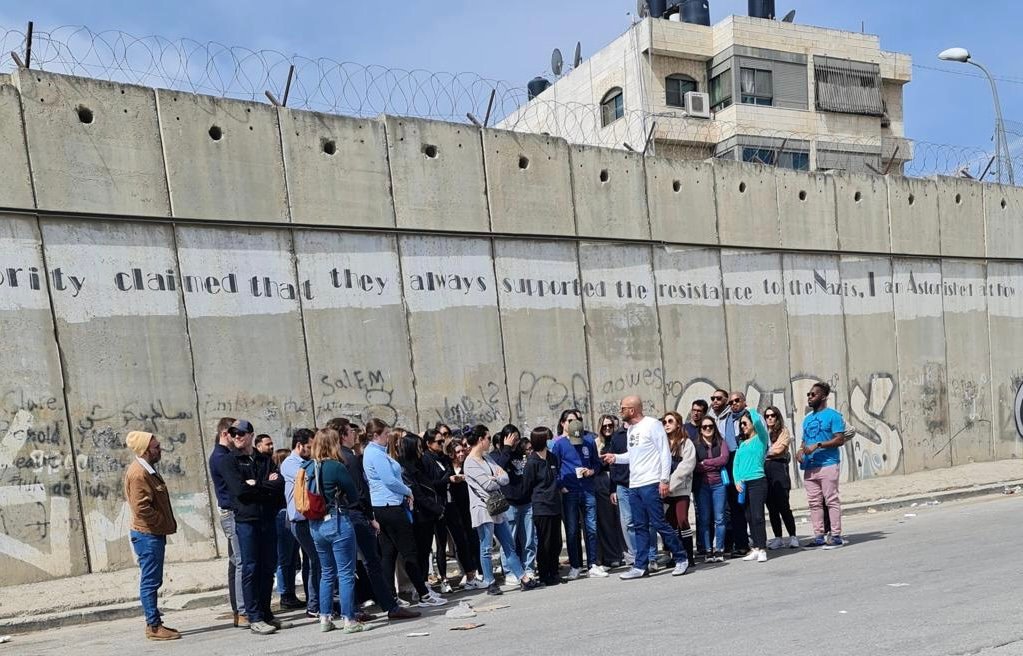 A UNIQUE WEST BANK EXPERIENCE
"Not your average West Bank Tour"
Beyond Borders Tours
Private Day Tours throughout the West Bank
Discover the other side of the border and gain a raw and authentic lens of the difficult political and emotional terrain of Palestine and Israel. Whether your traveling alone, with family and friends or in a large group, Beyond Borders Tours will accommodate all your travel needs throughout the West Bank and Palestinian Territories.
Beyond Borders Tours offers a wide variety of private day tours throughout the West Bank; Ramallah Tour, Bethlehem Tour, Hebron Tour, Nablus Tour, Jericho Tour and will gladly custom design a program to meet your interests and ensure providing you with the most exclusive and exceptional Tours.
Accompanying church leaders, politicians, film producers, students, tourists and other luminaries in the streets of Ramallah, Nablus, Jericho, Bethlehem and Hebron; and in villages and refugee camps throughout the West Bank, "this is a tour unlike the rest." You will meet and interact with locals, in the streets, narrow alleys of refugee camps and in Palestinian homes. You will hear their stories and experience their hospitality and friendliness-gaining exposure to the daily lives of the Palestinian people. Strolling in bazaars, browsing the colorful kiosks of the multitude of goods, smelling the freshly brewed cardamom flavored coffee, a traditional Palestinian meal and even tasting the Nablus specialty Knafeh, the orange colored cheese dessert dripping with honey.
If you're looking for a window into the reality of Palestine, Let's talk!
Georgetown students learning the Palestinian Dabka Dance
EXCLUSIVE WEST BANK TOURS TO MEET YOUR INTERESTS
"A must do on any Israel trip in order to understand the current state of the conflict and optimism for a resolution."
Katharine Brown – In March 2015, I arranged for Rami Nazzal to lead a group of 47 master's students on an academic, policy-focused tour of Ramallah.  After our day with Rami, several students approached me to express how much they valued this extraordinary experience.  From beginning to end, his work displayed a great amount of professionalism and consideration for the concerns of our group.  He offered well-articulated answers to our questions concerning the Israeli-Palestinian conflict, urban development, political frameworks, and social cohesion. Thanks largely to his knowledge and expertise, our group considered our visit to Ramallah as the most informative and unique part of our trip to Israel. I speak for 47 students when I say that Rami comes highly recommended!
Aidan Ali-Sullivan – Rami is amazing- First off he takes amazing care of your group. Second, he knows everyone! Everywhere we went he was making things happen, pulling strings for us and providing us spontaneous adventures beyond my expectations. Finally, he is extremely intelligent and knowledgeable on the region, politics, religion and history. If you are looking for a true insider with unparalleled knowledge, access and energy in the West Bank area there is no one better!
Jeremy Meltzer – A must-do trip when in Israel! Visit the West Bank with Rami! So important to gain a perceptive, a window into the reality of the Palestinian people.  Rami was fantastic! He knew everyone, made us all feel very comfortable and was deeply knowledgeable abut the region, while offering a balanced view on a complex situation. Anyone travelling to Israel, I'd recommend this day trip. It will enhance your perspective on the region, and ultimately, it highlights our common humanity.
Kyra Davis – 
If you want to understand the conflict, the beauty, and the hope here, you must attend one of Rami's tours.
Shannon White – Rami gave my group a really thoughtful, amazing tour, topped off with some fantastic food recommendations!
TO PUSH FOR PEACE AND MAKE A BETTER CHANGE